hunathing.is - Sjálfboðaliðar SEEDS á Hvammstanga
12.07.2006
Í dag kom hópur sjálfboðaliða frá samtökunum SEEDS. Um er að ræða samtök ungra sjálfboðaliða sem vinna að umhverfismálum í víðasta skilningi þess orðs. Markmið samtakanna eru að stuðla að friði og vináttu milli manna, og að fólk umgangist náttúruna af virðingu.
SEEDS, is a non-governmental, non-for-profit organisation with international scope. Our main focus of activities is related to environmental, nature oriented and outdoors issues.
Sjálfboðaliðarnir munu dvelja hér í þrjár vikur ogvinna, í samstarfi við vinnuskóla Húnaþings vestra, að ólíkum verkefnum, s.s. göngustígagerð, skógrækt og viðhaldi gamalla mannvirkja.
Þau munu m.a. hjálpa til við undirbúning unglistahátíðarinnar Eldur í Húnaþingi og að sjálfsögðu munu þau taka þar virkan þátt í ýmsum uppákomum.
SEEDS, SEE beyonD borderS, cooperates in Hvammstangi and the Húnaþing vestra district with the local authorities and particulary with the Environmental affairs department, headed by Arnar Birgir, the local contact during this 20 days of the project. Jointly with them and the local youngsters working for the "Vinnuskóla" or "Working school", volunteers will be working in different outdoors and nature-related issues as: Reforestation works in the area (planting trees), maintenance or construction of hiking trails and walking paths, cleaning up actions on the shore/beach, collecting trash and garbage.
Additional tasks related to the environmental, nature related and outdoor topics may be linked to the construction of a small wooden house, which was used in former times by fishermen to dry the catch and to maintain – repaint old yellow stones used also by fishermen to orientate themselves when on sea.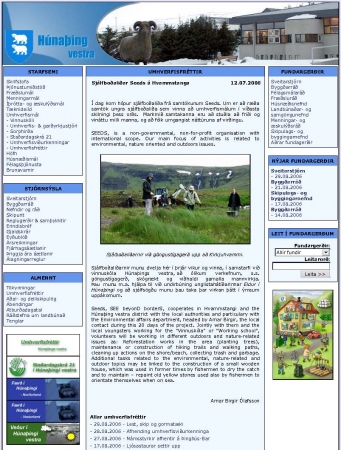 Find your workcamp
Icelandic Experience
SEEDS main supporters