bildudalur.is - The SEEDS Volunteer group 2009
19.10.2009
Welcome Icelandic Travellers!!! (or potential, hopefully likely Icelandic travelers)...
I'm glad you have stumbled upon the website of this wonderful town in a remote corner of the world. Let me tell you, you have uncovered a rock with a gem under it, and the gem is Bildudalur and the entire Westfjord region of Iceland. I guess in this metafor, the rock is the distance you have to travel. Anyway, my name is Jon Bornstein and I am currently volunteering with a program called SEEDS (SEE BeyonD BorderS), (I don't really get it either). We are helping out our lovely host Jon, the local guide to the region, cleaning up local beaches and clearing trails.
I am a student at Tufts University, have spent the last 5 months studying in Seville, Spain, with some brief trips interspersed, throughout Europe, but mostly within Spain. Nothing else in Europe compares to the natural beauty that Iceland has to offer, well maybe some southern Spanish beaches, I guess it depends what you are into. Well, if this is what you are into, come on by. Now I'll introduce you to my fellow volunteers: The leader is Ed, from Leeds, England. He is a long term volunteer with SEEDS, with the unique opportunity to experience Iceland the entire summer. He will be working the majority of the time in the SEEDS office in Reykjavik. We have two french volunteers on the camp, Aurelie, from Petit Landau in Alsace, and Solveig, from Rouen in Normandy, who has been living and studying in Iceland since August 2008. The other volunteers on the trip are Americans, like myself: Miles from Saratoga Springs in New York State, who is travelling after his graduation; Aurora, from Norway (not the country...) in Maine, who also recently graduated; and my friend Adam, who is also a student and also from Washington DC.
Taking part in the SEEDS camp in Bildudalur has provided us wth many wonderful opportunities and allowed us to experience a side of Iceland that we wouldn't normally be able to see. It has allowed us to meet people from different places around the world and to learn to get along and to overcopme any problems that have arisen. Doing international volunteer projects is a wonderful way to spend a holiday, to see a country and to make new friends.
http://www.bildudalur.is/?c=webpage&id=400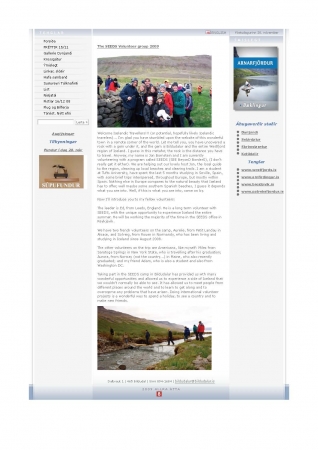 Find your workcamp
Icelandic Experience
SEEDS main supporters