bildudalur.is - Population of Patreksfjörður increased by 2,75%!
31.05.2007
Last week we arrived in the Westfjörds we are a group of 22 international volunteers from 12 different countries including Belgium, Canada, Czech Republic, England, France, The Netherlands, Hungary, Italy, Portugal, Slovakia, Switzerland and the USA.
Our colourful group performed different tasks in Patreksfjörður in order to emebellish the town and help the local community. First we cleaned the coast-line by removing 20 tonnes of rusted iron and then we spruced up the town's old swimming pool in preparation for the closing session and barbecue of the Skjaldborg -Hátíð íslenskra heimildamyndafilm- festival. A great evening of Icelandic fish & drinks on Sunday the 27th !
Last but not least, we had the opportunity to work at the very beautiful the beach in Rauðasandur, the area is famous and has this name because of it's unusual red sand. The beach is also home to many seals and for two days 17 of the SEEDS' volunteers, who did a great job of cleaning the area. The trash comes to the beach throughout the year, mainly from fishing boats that are beached by sea streams and storms on Rauðasandur's coast-line.
During this time the volunteers rescued a baby seal trapped in iron strings and helped it to get back to the sea!!
Now in Bíldudalur, until Saturday, the SEEDS' volunteers will perform different tasks including mapping trees and birds of the area, investigating the possibilities of development in the area to allow people to come and enjoy the natural beauty, organising activities for the youth of the town and finally to keep this website up to date so that we can all read the news of Bíldudalur!
SEEDS is very thankful to the communities of Vesturbyggð who are taking part in this project: Hosting a group of 22 volunteers is not an easy task, and, we at SEEDS, think that by trying unfamiliar situations, that we are learning the most from each other.
By bringing people from different cultures, backgrounds, and perspectives, mixing them together, and giving them the opportunities to perform tasks in unknown settings, SEEDS aims at promoting peace, respect for cultural diversity, mutual understanding and environment protection; in this way we believe that we empower, encourage and aid people of all ages, cultures, and backgrounds.
SEEDS has been working for the last 1.5 years, trying to give the opportunities to people from all over the world to discover Iceland from a responsible point of view. By bringing people together in an informal way we can show a piece of their culture to the locals, and we hope that they will take a piece of Icelandic culture different than the one you can buy at a souvenir shop !
SEEDS works closely with similar NGOs all over the globe and is trying this year to spread the message among the Icelandic youth about the possibilities of going overseas to join similar projects among international groups in more than 70 countries like Great Britain, Spain, Japan, Mexico, Morocco, Denmark, Thailand, Serbia, Greece, France, to perform tasks as exciting as cleaning dinosaur footprints, working with sea turtle, marking ancient marathon paths, etc.
Do you want to know more about SEEDS? Please have a look at our website at www.seedsiceland.org, we will run this summer 21 projects around Iceland with almost 300 participants from 30 different countries ! Two of them will take place again in Vesturbyggð. We will have again the pleasure to meet you this summer with new international volunteers !
http://www.bildudalur.is/?c=webpage&id=160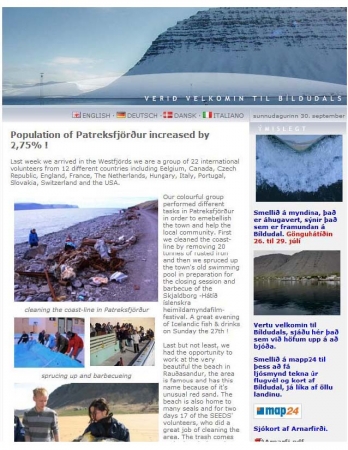 Find your workcamp
Icelandic Experience
SEEDS main supporters