Reykjavikmag by Reykjavik.com - SEE beyonD borderS
16.08.2006
Volunteers for Culture Night
Established last year, See beyond borders or Seeds is an Icelandic non-governmental, non-profit organization that is international in scope. One of the organizers and founders, Oscar-Mauricio Uscategui from Colombia, is in Þórshöfn where one of the Seeds work camps is located. By phone he tells me, "We are a part of a global network that develops non-formal educational activities for mostly young people." Seeds has fourteen different projects going on in work camps throughout Iceland, where international volunteers work with local communities. One project is for the city of Reykjavík. Sixteen short-term volunteers from the U.S., Japan, France, Hungary, Germany and Italy are assisting the organizers of Culture Night and Reykjavík Marathon.
Volunteers from all over the world
Seeds aims at promoting respect for cultural diversity, mutual understanding and environmental protection through activities that empower, promote and aid people of all ages, cultures and backgrounds. Seeds provides them with possibilities and opportunities to live, study, experience, exchange, research and work together. This year Seeds participants have come from 25 different countries. "We receive people from all over the world. Most of our volunteers are between the ages of 20 and 30 but some are older. About 70 percent come from European countries," says Oscar. "I came to Iceland in 2002, I had an Icelandic friend, and I kept coming back the next summers until last year when we started Seeds," Oscar explains. "Our main fi eld of activity is related to the promotion of cultural understanding through work on nature-oriented, outdoors and environmental issues." Hence the work camps throughout the country. But Seeds also helps with organizing events. "For example in Dalvík we had a project organizing the Big Fish Day Festival, similar to the Culture Night project in Reykjavík. We help the organizers wherever they need a hand."
Understanding the culture
About ten long-term volunteers are working for Seeds this year, and stay for six to eight months while around 160 short-term volunteers stay two to three weeks. Jérémie Jung is a long-term volunteer who has been in Iceland since April. "I'm leading a group of 16 short-term volunteers who work for Culture Night: Project Seeds 11." Jérémie is one of the leaders who came through the support the European Commission, which gives grants to Seeds and supports its activities. Jérémie is from France and visited Iceland for two weeks last year. "I wanted to see more of Iceland and wanted to get to know the Icelandic community. So I became a volunteer with Seeds so that I could work with Icelanders. It's a good way to get to know the culture and the way of life. To understand how the country is, instead of just being a tourist and going to the tourist places," says Jérémie who lives in Reykjavík now but has been moving from one work camp to another and has lived in such places as Suðureyri, Þórsmörk and Kópasker.
Organizing events
For Culture Night the group is helping the staff organizing the event. "We decorate some places and the buses, we build stages, help with equipment, we will work with light and sound engineers on the stages. There is some bureaucracy and during the events we give guidance and give information to people," says Jérémie, who is sure the volunteers are having a good time in Reykjavík. "It's a good group, one of the best groups I have been leading. In exchange the city arranges some excursions for them, free access to swimming pools and museums and gives them tourist cards. I think it is a good exchange. They are totally happy." Crosscultural learning is one of the aims of Seeds and Jérémie admits he has discovered a lot of new things in Iceland. "The landscape is completely different from France. What I think is really funny are the nights in Reykjavík, the weekday nights are totally different from weekends. On weekdays Icelanders are so quiet and shy but on weekends they are so happy. For me, it's like the landscape, a lot of contrast everywhere and the people are the same," he says with a laugh. -hbv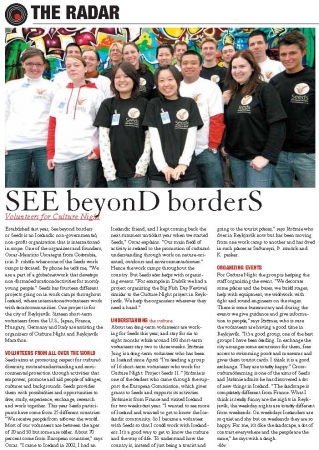 Find your workcamp
Icelandic Experience
SEEDS main supporters