BB.is: Sjálfboðaliðar að störfum í Raggagarði
07.06.2013
Hópur SEEDS sjálfboðaliða er nú að störfum í Raggagarði í Súðavík þar sem þau vinna ýmis verkefni til að betrumbæta og fegra garðinn. Sjálfboðaliðarnir eru frá Ítalíu, Kanada, Spáni, Frakklandi, Austurríki og Bandaríkjunum og virðast allir hæst ánægðir með verkefnið - við hlökkum til að sjá útkomuna!
A group of SEEDS volunteers are now assisting with various tasks in Raggagarður in Súðavík which is located in the West Fjords. The volunteers in this program come from Italy, Spain, France, Austria, United States and Canada.
Raggagarður is an outdoor playground where the whole family can get together and have a good time. Amongst other things volunteers are working on painting various painting and fixing fences around the area. Everyone seems to be having a great time and we at SEEDS can't wait to see the results.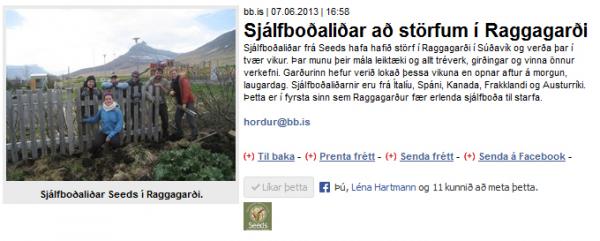 Find your workcamp
Icelandic Experience
SEEDS main supporters