hostel.is - News - SEEDS in Iceland
14.08.2006
A group of 12 volunteers from 7 countries were staying in Iceland between the 2nd and the 16th of July.
This group was assisting Hostelling International Iceland with various environmental projects. This was a co operative project between HI Iceland and an international volunteer organization called SEEDS (SEE beyonD borderS – Iceland). The group was planting trees and cleaning in Valaból, a small piece of land owned by HI Iceland just outside Reykjavík.
Trees were cut and walking paths built in Thorsmork and finally doing some odd paint jobs at Reykjavík campsite.
This co-operation has been very successful and many demanding jobs have been finished. As mentioned this was done by a group of volunteers but HI Iceland provided the group with food and accommodation while staying in Iceland. HI Iceland wants to thank everybody dearly that were of assistance to the project. Special thanks to Hafnarfjordur town and the Reforestation association of Hafnarfjordur.
Further information about HI Iceland's environmental projects can be found on www.hostel.is.
Further information on SEEDS can be found on the organizations home page www.SeedsIceland.org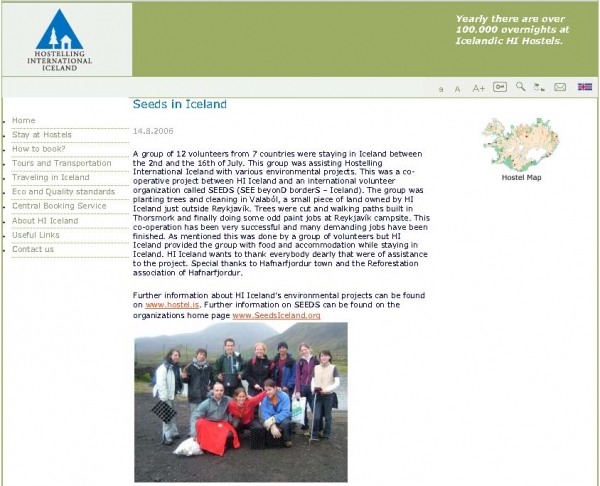 Find your workcamp
Icelandic Experience
SEEDS main supporters