SEEDS 03. Garður & Reykjanes Peninsula
09.06.2008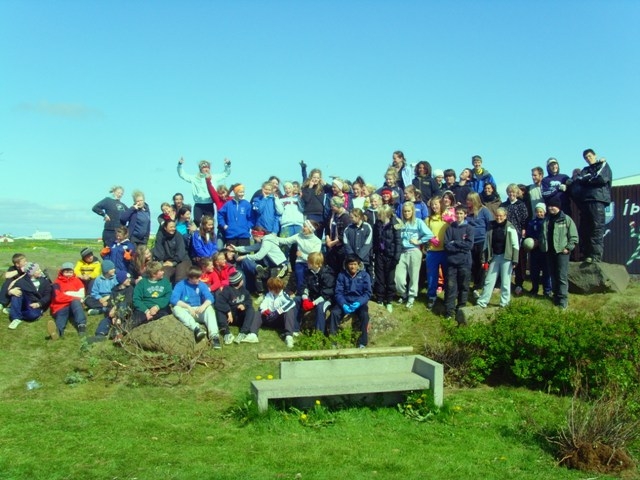 16 SEEDS volunteers from France, UK, Belgium, Latvia, Finland, Netherlands, Spain and Italy have arrived to the township of Garður in the Reykjanes Peninsula and will stay until June 16th...
This workcamp is situated in the town of Garður, a little under an hour's drive from Reykjavik. Found on the south western tip of Reykjanes, and with a population of 1500, Garður is famous for its lighthouse and its panoramic view across the water.
For this workcamp the volunteers will spent the first week living in the Youth Centre before moving just down the road to the local Secondary School.
The town of Gardur is celebrating its 100th anniversary with a festival and visit from the President of Iceland himself! It is the volunteer's job to ensure the town is looking good for the big day.
SEEDS volunteers will work with the local youth, who are employed during the summer months to maintain green areas around Iceland. This means there is a real opportunity to interact with the locals and find out about their country and way of life, whilst teaching them of ours.
The majority of the work is weeding, laying turf, mowing grass, digging up Lupina (an invasive, resilient plant) and planting shrubs. There is also a track that needs several truck loads of black gravel spread evenly along it.
This has inevitably led to long jump competitions and wheel barrow races. Some of the volunteers were asked to help to clean up an old lighthouse and museum ready for the anniversary, which allowed a chance to look out from the top.
The volunteers also helped Tómas from the Blue Army to clean up the coast of all the litter that had washed up on the shore.
There was an excursion around the Reykjanes Peninsula, which included a trip to the nearby geothermal power plant and guided tour around the renewable energy museum. Volunteers also had the chance to stand on the border between the continents of Europe and America, as well as a visit to bubbling hot pots (provided they could stand the smell of sulphur). The visit was rounded off with a trip to two local artists who were making traditional handcrafts, and provided everyone with a free necklace.
Some volunteers also had time to visit the world famous Blue Lagoon, for a relaxing soak.
The camp leaders were Edward Lewis and Julien Touze and the Environmental Messengers were Veronica Arribas and Magnus Tulloch.
For more information on the community of Gardur, please go to http://sv-gardur.is/ and details on the work of the Blue Army visit http://blaiherinn.is/
Find your workcamp
Icelandic Experience
SEEDS main supporters