SEEDS 16. Djúpavík
05.06.2008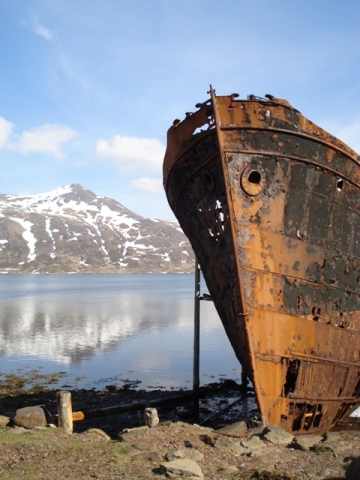 Five SEEDS volunteers have arrived here in Djúpavík, situated in the Western Fjords of Iceland.
Having settled into our accommodation, at the base of a waterfall, we have started work on creating a car park and path in preparation for a coming art festival. Other activities will include clearing the coast of Siberian driftwood and some light carpentry work.
Djúpavík has a population of 3 (our hosts and their dog) and is famous for an old abandoned Herring factory that was once the biggest structure in Europe. Imagine our surprise when Hollywood actor Vigo Mortenssen turned up for a night!
In our spare time we are able to relax in a geothermal heated swimming pool, and take midnight kayaking sessions in the bay, where we are frequently joined by the curious local seal. The surrounding hills make for an enjoyable hike to the top of the waterfalls, but watch your footing in the melting snow.
The factory makes for a fascinating tour, with a real sense of history. Just try not to disturb the local Arctic Terns. The rusting hulk of an old trawler sits on the beach and photo opportunities are plentiful. If you like isolation and an easy pace then Djúpavík is certainly worth experiencing.
Find your workcamp
Icelandic Experience
SEEDS main supporters