SEEDS 01. Bíldudalur & Langibotn. First Project of the season!
02.06.2008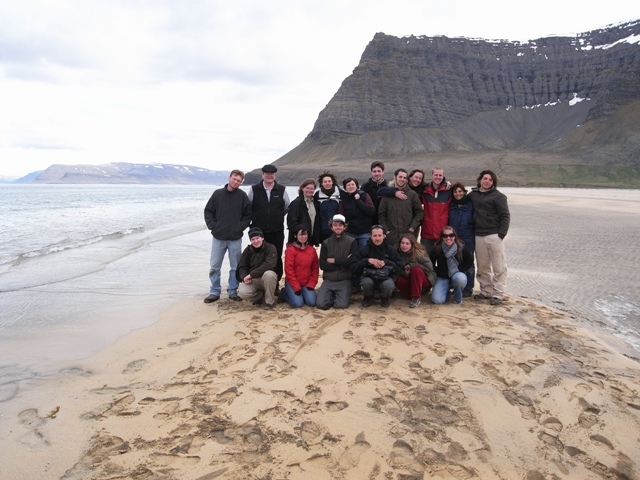 Last week 16 SEEDS volunteers have started its very first project of the summer 2008 in the Icelandic Western Fjords; our volunteers have been involved in a number of projects in Bíldudalur: helping the excavation of a nearby archeology site, clearing out the monster museum, finishing the construction of a pond, and also making sculptures out of recycled materials with the local children, for our UNESCO "The Beauty & The Beast" contest.
There was a ceremony for the local students at the school on Thursday at the church, followed by an exhibition at the school. Afterwards the community enjoyed a play in the Gallerie Dynjandi in which two men from Reykyavík displayed their talents.
On Friday the SEEDS volunteers were treated to a very special day helping to shoot a film to promote tourism in Bíldudalur. Jón took the group out to see some of the local sites and recounted some old stories about the early settlers. In the afternoon the volunteers made a trip by boat to the stunning Langibotn at Geirþjófsfjörður.
Seaman's Day was celebrated on Sunday with many games for the children, mothers and SEEDS volunteers. Some people ended up in the freezing cold sea! In the evening, seventy people from Bíldudalur travelled by boat to Sperðlahlíð for a barbeque. Everyone enjoyed the food, music and the beautiful view. Also the new Gallerie Dynjandi was formally opened. It is currently exhibiting many paintings by local artist Óskar Magnùsson.
This week the SEEDS volunteers have been building a hiking trail in an area of incredible natural beauty, painting a sign for a new art gallery, editing a film to promote tourism in the area (www.bildudalur.is) and constructing a waterfall in the village. The voluneers have been also spending their evenings preparing for an environmental evening to help share some green tips to the community.
Find your workcamp
Icelandic Experience
SEEDS main supporters