EVS Training in Reykjavík
11.05.2008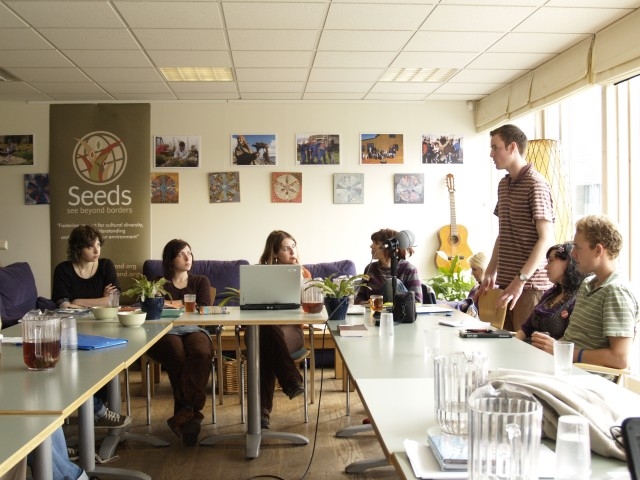 A new season of the workcamps and the European Voluntary Service (EVS) has begun. Volunteers began arriving on Sunday 4th May and had all arrived by Wednesday 7th when we began training.
We have 6 workcamp leaders and 6 environmental messengers to join Juste -the Lithuanian EVS volunteer who has been working in the Green hostels projects since February. The workcamp leaders are: Henry from England, Edward from Scotland, Sabrina and Julien from France, Christos from Greece, and Enrique from Spain.
The environmental messengers consist of: Stella from Italy, Denise from Portugal, Veronica from Spain, Giedre from Lithuania, Magnus from England, and Mathias from France. This is a good mix of nationalities and personalities and they will all surely have great fun during the coming months.
The training had been run by Chiara Davico, Christophe Joset, Oscar Uscategui, and as well as Lara Marx and Matthew Williams, who have returned from last year's EVS and Tracy MacDonald who is a sustainable development lecturer from California. During the first week important areas of climate change, inter-cultural understanding and important background information were successfully integrated into the detailed daily schedule. There has also been time for icebreakers, energisers and activities to enable the EVS volunteers to get to know each other better.
As well as the important work there have also been fun activities which have included a daily newspaper created by the volunteers, a night out in Reykjavík and an excursion to the Golden Circle. The volunteers have enjoyed plenty of exercise such as swimming, football, basketball and a table tennis tournament at the hostel. The food has also been good has integrated international evenings, which have so far included a French, Icelandic and Lithuanian evening!
For pictures of the activities, please visit our galleries section at:
http://www.seedsiceland.org/pictures-iceland-en-galleries/pictures/2008/c-other-activities-in-iceland/EVS-training.html
Find your workcamp
Icelandic Experience
SEEDS main supporters