Forestry project in West Iceland
22.05.2023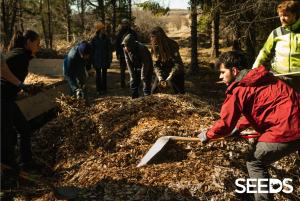 Let us tell you a tale of two remarkable organizations that joined forces for a grand adventure in the breathtaking landscapes of West Iceland! A group of lively Portuguese from @agoraaveiro embarking on a forestry project alongside SEEDS volunteers. What a memorable journey it was!
From the first day, the Portuguese team showcased their vibrant spirits. Every word spoken sparked a song! When eating or working, their melodious voices filled the air, turning even the simplest conversations into a delightful concert.
As they immersed themselves in the forestry project, the days were filled with laughter, card games, and a well-deserved disconnection from the digital world. And there was one magical moment that everyone eagerly anticipated - the hot tub time!
Speaking of magical moments, the presence of dogs everywhere added an extra dose of joy to their days. These furry companions brightened up even the most challenging tasks.
One thing that made them excited was the trailer ride experience. They couldn't help but yearn for more adventures on wheels.
Let's not forget about the forestry work itself. With every collected branch, every cleaned patch of forest, their progress became visible. They created hiking paths and meticulously cut small branches from old trees, collecting them to be planted and nurtured into mighty trees of the future.
The impact of their collective efforts was felt, realizing that with just eight people working together, they could create an entire forest (in many many years from now, of course!)
As the days passed, bonds were formed. It was more than just a forestry project—it became a journey of friendship. Even in the face of unexpected challenges, they found a way to spin them around in a positive light. Frustrations were met with a hearty laugh and songs. They truly knew how to make the best of any situation
Find your workcamp
Icelandic Experience
SEEDS main supporters