Camp SEEDS 062. recycling at Terra umhverfisþjónusta
07.11.2022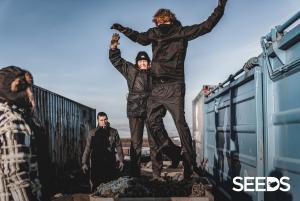 And we danced and we sorted,
and we laughed and had a really, really, really good time!
Take the litter, let's have a blast
and remember this moment for the rest of our lives
Camp SEEDS 062. again in action! This time we went to Terra umhverfisþjónusta, the recycle center.
Our role was to categorize the litter we collected from the coastline in the past months. Together with the Blái herinn we managed to sort out enormous amounts of the trash.

The procedure was definitely challenging, but we enjoyed doing it a lot and we captured some unforgettable dance moves!
Find your workcamp
Icelandic Experience
SEEDS main supporters