Weekend at Skaftafell with AUS & UST
13.08.2007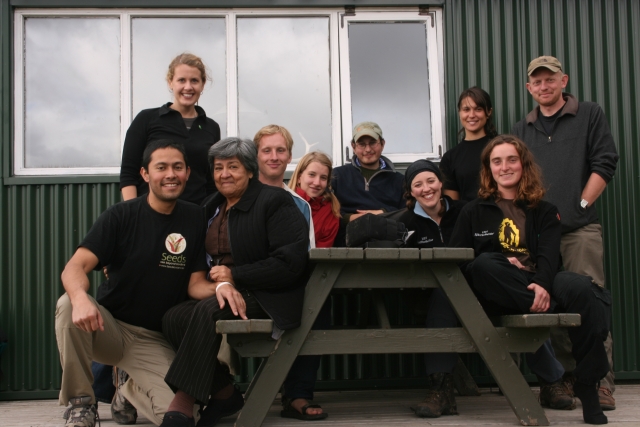 Sjálfboðaliðar og starfsfólk frá Umhverfisstofnun, SEEDS og AUS komu saman í Þjóðgarðinum Skaftafelli um helgina til þess að ræða saman og kynnast betur starfi hvers annars á sviði sjálfboðaliðaþjónustu.
Aðilar frá samtökunum ræddu ýmis mál tengd móttöku sjálfboðaliða, svo sem þróun sjálfboðaliðaþjónustunnar á Íslandi, frekari samvinna milli Umhverfisstofnunar, SEEDS og AUS, leiðir til þess að viðurkenna þátttöku í sjálfboðastarfi og möguleikar á útgáfu á efni tengdu sjálfboðavinnu.
Samtökin vilja með samstarfinu leggja áherslu á gæðamál sjálfboðaþjónustunnar og vilja vekja athygli á mikilvægi þess að þau samtök sem taka á móti sjálfboðaliðum vinni eftir ákveðnum grunnreglum og uppfylli þær kröfur sem settar eru. Með frekara upplýsinga- þekkingarmiðlun stefna samtökin á að auka gæði sjálfboðaliðaverkefna og almennri móttöku sjálfboðaliða á Íslandi.
Þátttakendur gengu um svæðið og fræddust um það starf sem sjálfboðaliðar Umhverfisstofnunar vinna að í Skaftafelli. Einnig lærðu þátttakendur um aðstæður þeirra sjálfboðaliða sem dvelja í Skaftafelli sem og þá uppbyggingu sem þar hefur átt sér stað á síðastliðnum árum.
Samtökin ákváðu í vor stilla saman strengi sína nýta sér þekkingu og kunnáttu hvers annars með þeim tilgangi að styrkja starfssvið hvers og eins. Þá komu saman um 50 manns á Farfuglaheimilinu í Laugardal á viðburði sem markaði upphaf samstarfs þessara aðila.
Weekend at Skaftafell with AUS & UST
Volunteers and staff from Umhverfisstofnun UST, SEEDS and AUS came together in the National Park Skaftafell last weekend to discuss and get to know each other's work better in relation to voluntary service.
Members from the organisations discussed various issues regarding hosting volunteers, such as development of voluntary service in Iceland, joint organisation or coordination of events as seminars, ways to work towards the recognition of voluntary work in Iceland and possible production of material and publications on our field of work.
With the cooperation they want to emphasize on quality standards for the voluntary service and to highlight the importance of working according to certain standards and fulfill a set criteria. With further information- and knowledge sharing they aim to raise the quality of their volunteer projects and the overall of the hosting of volunteers in Iceland.
Participants hiked around the area and learnt about the work the volunteers of Umhverfisstofnun have been doing in Skaftafell, the general situation of volunteers there and furthermore about the great development in the park during the last years.
Last spring these organisations decided to harmonize their work and benefit from the knowledge and skills of each other in order to strengthen each partner. Around 50 people met in the City Hostel in Laugardalur in an event that marked the beginning of the cooperation of those partners.
We thank once again our hosts for the great weekend we spent with them! Many thanks Clémence, Eli, Gemma, Chas, Jim and Vaclav!!
To see some pictures of the weekend, please visit our galleries section, at "2007" and "Other activities"
Find your workcamp
Icelandic Experience
SEEDS main supporters