Greetings from Mount Esja
31.10.2022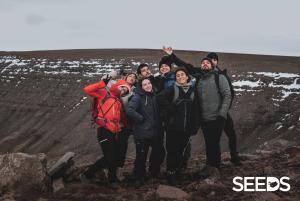 We still have temperatures above 5 degrees and we want to make the most of it. Our long-term volunteers decided to conquer Mt Esja on their day off.

Esja is open for hiking all year round. The path is very well marked, and in nice weather you shouldn't have any problems. However, keep in mind that the weather can change very quickly in Iceland and even a simple hike can become very difficult in bad weather. Check snow conditions before going, because if the mountain is covered with snow you will most likely need crampons and a good mood.

Speaking of a good mood, even concerts have been held at the top of Mt Esja, with artists flying in a helicopter and fans flocking up the mountain to enjoy the music. Unfortunately, no concert was held last week, so our volunteers needed to compromise, and sing themselves.

Did you know?
~ You can fill your water bottle along the way as a river flows down the mountain. Highly recommended.
~ Esja is one of the few mountains in Iceland named with a female name. After an infamous witch that used to live on a farm near the mountain.
~ The western part is the oldest one, about 3.2 million years old. Tectonic movement is constantly pushing the strate to the west and away from the active volcano zone which Esja once belonged to.
Find your workcamp
Icelandic Experience
SEEDS main supporters