Réttir, the annual round-up of the Icelandic sheep and a country party
20.10.2022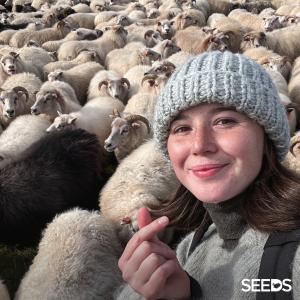 As we all know sheeps are integral to Iceland. Some 800,000 roam the country, more than twice the human population, and they've sustained the island's inhabitants for centuries. Best of all, they're almost entirely free range.

The round-up happens in the month of September all around the country.
Every year the farmer community in Iceland begins the journey of scaling majestic mountains to collect their sheep. Réttir is considered one of the most significant events in the countryside of Iceland.

Icelanders must collect the sheep and round them up into safety before the winter starts. There is a reason for it. The winter arrived early in September 2012 and consequently, heavy snowfall in North-Iceland. A large number of sheep got lost in the snow. In many areas, people were not finished with the rounding-up of sheep. Things went out of hand when search parties were sent out to look for sheep. The animals were found buried under the heaps of snow. To avoid this unfortunate situation, sheep are now collected before winters.
The ancient tradition is followed by sorting at réttirs, circular pens with radiating sections where farmers separate their herds. It's a grand country party, where friends, family, and neighbors come together to play music , picnic outdoors, and help each other marshal their sheep. Tourists are welcome to join in on the fun. Our volunteers from the camp SEEDS 51. joined this magical event last month as well and it was a life-time experience for them.
Find your workcamp
Icelandic Experience
SEEDS main supporters