SEEDS 072. Sprouting a New Future
11.10.2022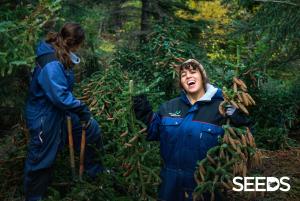 Our camp SEEDS 072. Forestry in the Far East of Iceland might have finished already, but the impact that our long-term volunteers left in the largest national forest in Iceland will last for generations.
Together, the hard-working hands of our SEEDS volunteers from Germany, Hungary, Mexico and Portugal, gathered up 500 kilograms of seeds, ready to be dried and planted and to bring new lives to the forest.
Their work extends beyond the forest near their accomodation in Hallormsstađur and reaches all the way to Steinadalur in the Southern part of Iceland. Covering 7,4 Km² Hallormsstađur is the largest national forest in Iceland and well known for its hiking trails and marvelous flora and fauna.
Find your workcamp
Icelandic Experience
SEEDS main supporters