SEEDS 071. A Tale between Fjords
03.10.2022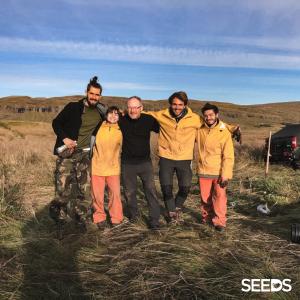 We are very happy to share a beautiful & powerful testimony of Vasco, one of our volunteers in the camp SEEDS 071. Forestry in the West - Dalabyggð.
"I have so much to say about this experience. It is something that will mark me forever. From the wonderful sunsets on the mountain horizon to the hard work we did.
Although the work was super exhausting I knew it would pay off as one day this area will have a majestic forest and I can say that I was part of it. I gave something to this area and this area will be forever marked with my touch. The landscape was breathtaking. We were in the middle of a ditch planting trees and every time I raised my head and saw the amazing view in front of me it helped me to get the strength I did not know I had. I was in tune with nature.
As for the host, Franz, there are no words to explain how fantastic and humble he is, you have to see for yourself.
And now the West fjords along with its charming Dynjandi waterfall - this was probably the moment when I felt better with myself because I was in a place where the fjord meets the river flowing through the waterfall. It was a fantastic moment. West fjords are one of the most beautiful and magnificent areas on the planet. One day I will have a hut there to come back for 2 weeks and re-establish my balance with nature. Thank you for this opportunity! "
Thank you Vasco and we'll see you once you come back to your fjords' hut.
Find your workcamp
Icelandic Experience
SEEDS main supporters