Successful Trash Hunting in Reykjavík
20.07.2022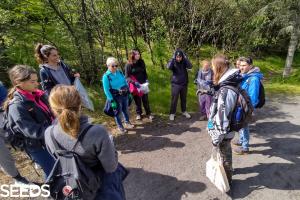 Our camp SEEDS 029. Environmentally Aware & Trash Hunting in Reykjavík was super busy doing a clean up after cleanup!
They started with a clean up in the forest around Perlan. The area is full of tourists and also locals spending their free time there and relaxing in the beautiful nature, often leaving a damaging footprint behind them. Our camp participants collected five bags of plastics giving the nature an opportunity to preserve itself and recover.
Later they continued to the surroundings of Hallgrímskirkja church that is very touristy all year round. The group helped beautify the area making it even nicer for sightseeing.
Finally yesterday they collaborated with the Blue Army to do a big coastal clean up! Working their way through the Reykjanes peninsula and around the lighthouse, the participants have collected 12 bags full of plastic bottles that the sea has washed away and many fishing ropes and nets.
They were very proud for having such a great impact and for working like a great team!
Find your workcamp
Icelandic Experience
SEEDS main supporters