Together for a Cleaner Planet
24.08.2022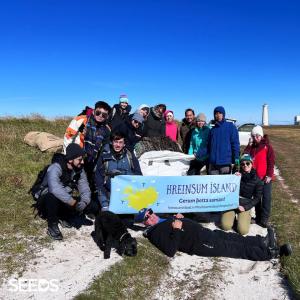 Another one of our SEEDS Environmental Aware & Trash Hunting camps is again in action long the Icelandic coast.
This time -and for the next 10 days- 14 of SEEDS volunteers coming all the way from Poland, Mexico, Germany, France, Italy, Hong Kong, and Turkey worked in collaboration with the Blue Army.
Together we managed to collect one huge sack full of plastic trash, fishing nets, and ropes from the Garðaskagi beach.
We will continue on with a series of numerous clean-ups happening throughout all of our Environmentally oriented camps during the summer and into the Autumn/winter!
This time volunteers also had a little helper with them.
Find your workcamp
Icelandic Experience
SEEDS main supporters