Shore of Ægissíða in Reykjavík is much cleaner now
10.06.2022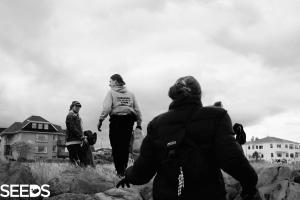 Another clean-up! This time our long-term volunteers collaborated with the Whales of Iceland and worked on the shore of Ægissíða in Reykjavík!

The shore and surrounding park are always full of people, with locals but also tourists spending some good time there, resting, enjoying the views, doing sports, playing with children or just taking a stroll along the sea. That's one of the reasons why our volunteers found it essential to make the place tidy and trash-free for everyone to enjoy!

This time's trash collection was dominated by small piesces of plastic and paper, cigarette buds and other things usually lying around parks. Our volunteers made sure none of the clutter stays there polluting the water and damaging the soil.
Find your workcamp
Icelandic Experience
SEEDS main supporters