World Clean Up Day 2022
17.09.2022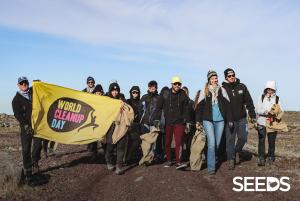 Today is the day! World Cleanup Day.
Did you already join the movement for a clean/er planet?
World Cleanup Day unites millions of volunteers, governments and organisations. It is one of the biggest civic movements of our time, uniting 191 countries across the world for a cleaner planet.
‍
We at SEEDS care enough to take action. It is all about positive collaboration, the spirit of unity and most importantly, getting something done for the planet and the realization that we need planet Earth with its resources more than it needs us.
We all can be David Attenborough or Greta Thunberg. Even though the World cleanup day is today, we have been cleaning areas all around Iceland.
Today, as multiple times a week during the last years we have been working hard and effectively making the Reykjanes peninsula and the Reykjavik areas clean!
So let's raise global awareness and implement lasting changes to end the global waste epidemic, once and for all.
Find your workcamp
Icelandic Experience
SEEDS main supporters