Teenage camp season comes to an end
06.09.2022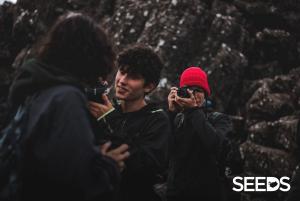 The last teenage camp of the season finishes today and we want to say a big thank you.
We gathered so many beautiful memories, stories & pictures. And we cannot wait to host you next year.
Our photography leaders help participants to develop their unique photographic skills through workshops and feedback sessions on technical settings, compositional considerations, as well as to create conceptual frameworks highlighting the participants' individual style.
And of course, together we explore some of the most stunning natural wonders in the Golden Circle and South Shore.
We hope you had fun with us and don't forget to set properly aperture, shutter speed and ISO.
Find your workcamp
Icelandic Experience
SEEDS main supporters