Let us introduce: Foster Social Inclusion
16.11.2021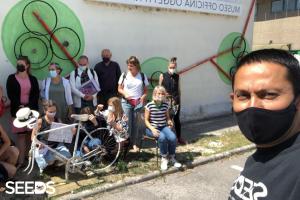 We'd like to tell you a little bit about a project we are taking part in. The project is called "Foster Social Inclusion" and working on it are organisations from Poland, Italy, Germany, Denmark, Spain, Lithuania and Iceland. Each of the organisations are working actively in different fields of adult education. What connects them is their aim to discover how is possible to foster social inclusion with art, social entrepreneurship, volunteering and intercultural dialogue.
SEEDS' part of this project is to run our workcamps. One of the three pillars the goals of our camps are based on is intercultural exchange. International workcamps bring together volunteers from different nationalities and backgrounds, aiming at building up international understanding and therefore encouraging peace while working for an identified need of the local community.
As one piece of or contribution to the project we created a training module called "VOLUNTEERING FOR ENVIRONMENTAL PURPOSES". It contains a description of successful and effective methodologies for social inclusion on the basis of our workcamps.
Find your workcamp
Icelandic Experience
SEEDS main supporters