International Volunteer Day 2021
06.12.2021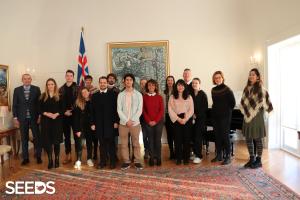 Fréttablaðið, an Icelandic newspaper recently published an article about the international volunteering day, which was on the 5th of December 2021. The national agency here in Iceland called RANNIS has invited us this year to celebrate all together. Due to covid-19 and the weather we had to change plans a few times, but still managed to do some good this day. The first activity of the day took us to a nursing home called Hrafnista, located in Hafnarfjörður. There we sang three Christmas songs to the inhabitants of the home to get everyone in the Christmas mood:
White Christmas
Santa Claus is Coming to Town
Have Yourself a Merry Little Christmas
After that we drove to Bessastaðir, the presidential residence. There we were lucky enough to hear a few words from Guðni Th. Jóhannesson, the current president of Iceland. He spoke a few words about volunteering and his habit to do "plogging" on his jogging route. The national agency gifted the president a booklet with different recipes from the volunteers home countries. Originally we planned to do a trash hunt around the area, which was unfortunately not possible due to the snow and ice that covered the ground that day. On the way back to the headquarters of the national agency we were surprised by the sun setting which created a spectacular view from Bessastaðir.
Read the article: https://www.frettabladid.is/frettir/taekifaeri-fyrir-ungt-folk/

Find your workcamp
Icelandic Experience
SEEDS main supporters