My volunteering experience - testimony from Julcsi Boros, a long-term volunteer of SEEDS
27.10.2021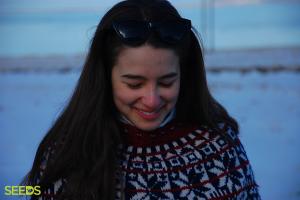 It's been a while now since I left Iceland - almost three months now! Yet still, there hasn't been a day without thinking back to those five months I spent on this magical island. It has been one of the most important phase of my life. It has given me so many lessons, so much joy and laughter, so many life-changing experience - Iceland and Seeds shaped me to the person I am today.
I knew for a while in high school that after graduation I want to break free - instead of going to university, I want to take a gap year and travel around, to explore the world which I'm living in and know almost nothing of, to experience working life and get to know new people, cultures and traditions. Shortly to say: to live my life a little, to experience everything that one can experience.
And this project hasn't disappointed me - it has given me more than I hoped for.
I already applied for this programme in August 2020. Although the volunteer team was already full from September, I was offered a place at the organisation from February 2021 which I happily accepted. I was fascinated by the project, the topics they are dealing with, the humanity of the workers I already got in contact with and the fact that in this project - unlike others - I get to work and live together with several other young explorers from all around Europe.
And my fascination never stopped. I spent five days in quarantine, already exploring the city and getting more and more excited to get to know the team. Breaking free from quarantine, I hopped into the social life - already taking part in an intercultural evening, one that we often held, with every volunteers and current participants making a traditional meal from their own country (in many cases made in vegetarian/vegan way, which is even more difficult to do!). And from the first moment I felt connected with everyone, I felt that I belonged here. I was surrounded with beautiful, talented, creative and kind people who were all different from each other but also the same in kindness, caring and humour with which they surrounded you. A day never passed without hugs, laughter and joy.
This atmosphere made everything magical, even when life is not perfect. Sad and lonely days turned into fun and comfort. The small, annoying tasks became easy and funny. We spent almost all of our time together - and one of the best part in that was going on adventures together. There isn't any better thing to do, than to explore a land which you've never seen before and which is so much different from anything else, so magical - and to do this with your friends! We explored some parts of the island in the camps, leading excursions, and we also took every possibility to go on trips in our free time. So I can happily say that in my five months I spent there I could (almost, haha) see everything I wished for. I am one of a very small circle of people who can say that they got to see a volcano erupt. I never dared dreaming of something like this before. And all the other things I've seen! I've seen so many waterfalls, each and every one of them is unique in their own way, I swam in the ice-cold ocean, and got warm in geothermal natural pools.I saw a glacier, lands covered with snow, the beautiful fjords surrounded with pink clouds, reindeers and arctic foxes by the road… and so much more! Iceland never for a second stopped to amaze me.
And the working life made me as fascinated as the landscape and the people I met there. It taught me so much about life, humanity and environment. SEEDS is an environmental organisation, whose workers and volunteers organise different camps for participants all around the world - every camp deals with environmental protection, although each and every one of them is a bit different, never the same. As an environmental workcamp leader my tasks were to make presentations and lead discussions about different topics linked to environmental protection - for example sustainable fashion, travel or eating -, and lead the camps, organizing different kinds of programmes - including visiting museums, going on excursion around the island, or host an intercultural evening - and make sure that every participant feels good and comfortable.
This has taught me so much. Doing research about my topic taught me a lot about environmental issues, and I got more and more aware of my actions, as well as more and more interested in the topic. At the same time, my organisation skills improved so much during organizing camps. And maybe most importantly, I grew in my humanity, caring about so many people, not just lead the camps but to listen as well to the participants as to other volunteers. I realized how much I love to deal with people because every human being is a unique treasure which awaits to be explored and cared about.
I came to Iceland as a child - and I left as a grown-up. Certainly there is a lot more to learn in the future as well, but I can surely say that Iceland has had quite an impact on me - in the best way possible. Which shows the most how much I loved being there, is maybe that I still get sad about the fact that I'm not there anymore. There is a possibility that I may go back to Iceland in the future, but I know that it'll never be the same. Because it wasn't just about the place - but all the people I got the chance to meet - and being on this amazing island just made it even more magical. It still feels like a dream. And although I do get sad sometimes, there isn't a day without realizing how lucky I am to have had this experience.
- Julcsi Boros, September 2021
Find your workcamp
Icelandic Experience
SEEDS main supporters