SEEDS 065. Environmentally Aware & Trash Hunting in Reykjavík 07-15 September 2021
14.10.2021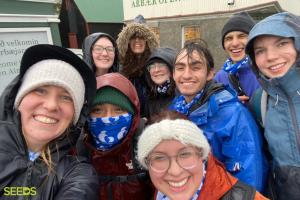 Led by our two Swiss long-term volunteers, camp 065 took place in September. The participants came from all over the world, more precisely from Mexico, Portugal, Belgium and of course Switzerland.
The first evening was all about getting to know each other and listening to the "Welcome to Iceland" presentation that we show in every camp. The next day we started off with the home country presentations. Every camp participant as well as the camp leaders prepared a presentation about their country or region. This intercultural exchange was very interesting, especially because it came from "true locals".
The afternoon we spent doing a city game, which is a treasure hunt through Reykjavik. This allowed us to get to know the most important sights and places. After that we went trash hunting on the coastal line. During the camp we took our participants to two excursions: the South Shore and Reykjanes Peninsula. Of course we also wanted to show them the incredible beauty of Iceland.
In terms of museums, we took the camp to the Open Air museum and the Whales of Iceland. The latter was also educating regarding plastic in the ocean.
During the course of the camp we heard four different presentations about organic farming, biodiversity, slow travel and zero waste. We also held a debate about veganism, where the participants actively spoke up about their opinion and knowledge.
One evening we planned a documentary night. We watched a movie about overtourism, which resulted in a heated debate about the content the movie was talking about.
One of the cleanups we did was in collaboration with the Blue Army of Iceland. This environmental organization focuses on the fight against plastic pollution in the sea through clean-up work, encouragement and awareness raising.
The camp was hosted in our SEEDS accommodation located in the botanical garden. We were really fortunate to be able to get a short tour of the botanical garden and it's large biodiversity. Almost every participant of the camp found one plant from their home country.
The last morning we had one last breakfast together and then cleaned the house. Although the camp was only 8 days long we grew together very quickly and saying goodbye was hard on everyone. We hope to have left a positive impact on the participants and that they will continue to use their newly gained knowledge at home.
Find your workcamp
Icelandic Experience
SEEDS main supporters