SEEDS 022. Flúðir – 13-23 June 2021
12.07.2021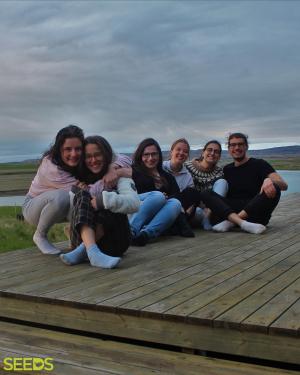 For 11 days in June, five SEEDS' long-term volunteers moved to a campsite in Flúðir to help out the host with outdoor and environmental work. The volunteers had several tasks, such as removing invasive plants, painting campsite objects and improving hiking paths. To learn how it all went, we asked the volunteers a few questions about their experience at the camp.
Where did you stay?
Flúðir is a small town not too far from Reykjavík. It's quite a popular place among Icelanders and foreigners, especially during summertime, thanks to its camping site and natural beauty. You can admire the view of the Highlands and the glaciers from there. Almost inside the town, there is a small hike immersed in a forest known for the King's Road crossing it and you can go swimming in the glacial river by the town.
How will you remember Flúðir?
We will certainly remember Flúðir for the swims we had in the cold river, hot tub and swimming pool and the work we did on the campsite and hiking path.
What did your typical day look like?
We would usually wake up at around 8, have breakfast, get ready for the work, and leave at approximately 9 for the campsite. Once there, we would work until 12, have lunch in the local school, and start working at around 1 PM. Then we would work until 3 o'clock or later if needed. Usually we went to the pool or home after work.
What was the most challenging part of this experience?
Perhaps understanding some of the work tasks that the host wanted us to take care of.
What did you learn from this experience?
In addition to learning how to use some specialized tools and machines, we also got better at improvising when unsure about what to do and how to do it. Plus, we got new ideas for how to restore abandoned areas.
How did you spend your free time?
In our free time we would go to the local swimming pool, hot tub, practise yoga or work out around the house, followed by a nice swim in the glacial river. Furthermore, close to Flúðir there is a short but stunning hike where you end up with a beautiful view on the mountain.
Was there anything that surprised you about the location or the camp?
The luxuriousness of the house was certainly a nice surprise. On the other hand, we expected the work to be more clearly defined and structured.
What is something you wouldn't have done if it hadn't been for this camp?
Swimming during the night of the summer solstice.
Which 3 things would you use to sum up the camp?
River, branches, and good food.
Find your workcamp
Icelandic Experience
SEEDS main supporters