SEEDS 018. Highlands - Kjölur Road – 6-19 June 2021
01.07.2021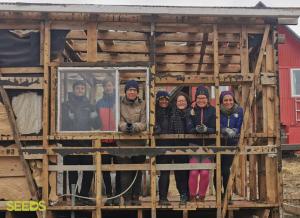 The camps in the Highlands are always highly anticipated by our leaders and their participants. The work is physically demanding, but the nature and landscape are unforgettable. A two-week camp took place at the beginning of June and we asked Sara and Benedikte, the leaders of the camp, a few questions about their experience.
Where did you stay and what was your accommodation like?
We stayed in Kerlingarfjöll mountain resort, in a small mountain hut by the river. We had a house with two floors to ourselves and we slept on the upper floor. Our beds were mattresses on the floor, so we basically had a pyjama party every day for the two weeks there. Our hut was small and cold and we could not have the stove and heater on at the same time, but it was very cozy and we were sad to leave it behind, never to be able to spend a night there again.
Describe your typical day.
The sun woke us up at 8 in the morning. After having workers' breakfast, we started working at 9, every day from a different place. We worked from 9 to 12, had a lunch break and then continued to work until 17. After hard work we usually relaxed in our private natural hot pool, situated about 3000 steps away from our mountain house, and thought about life. We spent late evenings playing games or watching movies.
What did you do in your free time?
In our free time we climbed glaciers and mountains in Kerlingarfjöll while catching mobile network from the top of the mountain, watched Icelandic stand-up comedy (confirmed accurate by the Icelanders joining us) and found our common passion for the Eurovision Song Contest. We did many hikes and on average we walked about 15 km per day. Some of our participants even went for a run after work.
How many participants did you have and where did they come from?
Our camp had the largest number of participants SEEDS has hosted in one camp in almost a year. They were 6 wonderful people from Belgium, Germany, Poland, Spain, the United States, and Brazil. Even though our participants were of different ages, they connected very well and everyone contributed to making the camp a great experience for everyone involved.
What did you learn from this experience?
The most important skill we improved during the camp was improvisation. We had limited knowledge, tools and information available to us, but we managed to navigate the unknown very well, including the food supply, cooking with one stove, unstable electrical systems, repairing hiking paths, building platforms for the skimobiles, and removing nails from wall panels.
What was the most surprising thing about this camp?
Our resilience and the fact that none of us complained or gave up, even though we were working in all kinds of weather conditions. The craziness and braveness of our lovely participants. We were surprised about the unstable weather and the fact that it changes more quickly than it does on an average Sunday in Reykjavík. Our host and the workers in the hotel were very caring and hospitable, even though most of the staff had no idea why we were at Kerlingarfjöll for so long.
What is something you wouldn't have done if it hadn't been for this camp?
We would have never climbed a glacier by looking at the 1400 meter mountain in front of us on a sunny day and just started to walk towards the summit without a guide, sunscreen or proper boots and crampons. The skiers beside us agreed. We would never have worked in such extreme weather conditions, but with the support of the group we overcame all our limits and managed to successfully work in strong winds, snow, hail, and rain.
Find your workcamp
Icelandic Experience
SEEDS main supporters