SEEDS 008. Environment & Photography - April
20.04.2021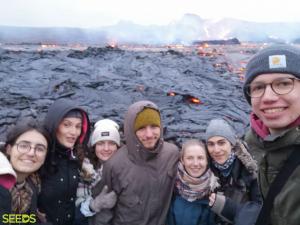 At the moment four our SEEDS 008. Environment & Photography camp is going on with an awesome group of volunteers, from Estonia, France, Germany, Portugal, or to be more specific, from Azores, (and Spain).
This weekend was very active - two excursions and a hike to see the volcano. And we got the perfect example of Icelandic weather - all seasons in one day.
During the first excursion it was raining almost the whole day, but luckily the clouds passed by the evening and we had a nice hike to see the volcano.
On Sunday we did the Golden Circle and this time the weather was more on our side . Even though it was raining hail and we were driving in the middle of snowstorms , whenever we had to stop for an attraction it was sunny.
We finished this busy weekend with a nice relaxing evening in the pools and are ready to start this week with new energy , to take the most out of this experience!
Find your workcamp
Icelandic Experience
SEEDS main supporters