SEEDS VC 106. Virtual Camp Environmentally Aware - Learn from Home
26.03.2021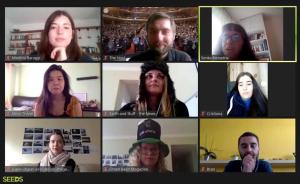 Our latest camp - SEEDS 106 Virtual Camp Environmentally Aware Learn from Home - hosted participants from Ireland, Italy, Portugal, Serbia and Slovakia, with the leaders from Poland, Slovenia, Estonia and Slovakia based in Iceland!
To break the ice we described ourselves with the objects around us, and heard fun trivia about Iceland. Discovered and worked on local creative solutions in our communities, and had an award show for all of our amazing participants. Cooked delicious plant-based milk and vegan burgers, and desserts from left-overs. Calculated our ecological footprint and discussed ways of reducing our food waste saying NO to fast fashion and creating less waste in our everyday life. Created a natural scrub, deodorant, and pen-holder with our own hands. Watched interesting documentaries, picked up trash around our neighborhoods, and listened to amazing country presentations.
We said goodbye to our new friends with a warm feeling in our hearts, new ideas to put into action in our communities, and promised to meet again in the future.
Find your workcamp
Icelandic Experience
SEEDS main supporters