SEEDS 005. Environment & Photography - March - part II
24.03.2021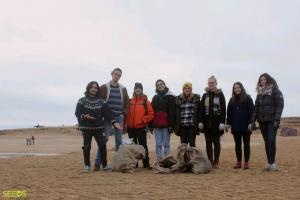 The days in Iceland are getting brighter and we don't waste any minute of the precious sunlight. We keep improving our photography skills and on Saturday we spent a full afternoon trash hunting around the geothermal beach. Some of us even dared to swim in the cold ocean!
We were rewarded with one of the most fascinating phenomena of the northern countries: the majestic northern lights in the skies over Þingvellir.
On Sunday we visited the flea market of Reykjavík - a must see in Iceland. At the Whale Museum we fell in love with the extraordinary creatures that sadly are constantly threatened by the extensive human activity in the oceans. We were touched by their beauty and the exhibition encouraged us to do our best to improve the environment for a better life for all creatures on planet Earth.
On the way home we had a look at the interesting street art of Reykjavík and enjoyed the last light of this surprisingly sunny day. We finished this amazing day with Italian pizza and traditional Icelandic ice cream.
Find your workcamp
Icelandic Experience
SEEDS main supporters