My volunteering experience - Marianna Šadibolová
24.02.2021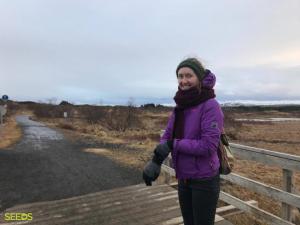 TESTIMONY, Marianna Šadibolová, February 2021
The project with SEEDS Iceland lasted for six incredible months that was full of experiences, challenges, great times surrounded by amazing people and breathtaking nature. It's difficult to find the right words to describe it so let's give it a try.
A new opportunity from my sending organisation KERIC had popped up in my mailbox some time ago and I loved the description of the project, so it got stuck in my mind until I finally found the courage to apply. I had wanted to be a long-term volunteer through the Erasmus+ program ESC (European Solidarity Corps) for a long time but somehow life had always kept me busy.
Frankly, I didn't expect the year 2020 to be so memorable because to be honest, Iceland was not on my bucket list (in fact, two years ago I chose to visit Faroe Islands instead of Iceland due to the tourists).
However, after working for several big corporations, I wanted to try something different. Furthermore, as a nature lover I am passionate about environmental topics and sustainability.
At the same time I had some reservations including what sharing a house with so many housemates would be like. However, I like a challenge and kept telling myself everything would turn out fine. The whole experience was much more than I could ever imagine.
I feel so much gratitude that I was part of this wonderful project, part of the SEEDS family and I will keep those memories forever.
I had a chance to get to know so many inspiring people both from within and outside of the SEEDS family. Everyone was different but still an essential part of the team and we learned a lot from each other. We shared delicious food and cooking, happiness and craziness, fancy announcements, fears and tears, warm hugs and long walks, deep and silly talks, songs and music, family shopping, great massages, beers and so much more.
My main task as an environmental camp leader was to lead SEEDS' outdoor, environment & photography, botanical, and virtual camps that usually lasted for around ten days. I was lucky to experience all those different kinds of camps. During the summer I enjoyed working in nature outside of the city where I got to know some generous and hardworking Icelanders. We participated in numerous outdoor projects including fertilising small trees, maintaining hiking trails, building a pathway or stone wall out of lava stones all while having wonderful views of the incredible wild Icelandic nature.
In our environmental camps based in Reykjavík we encouraged people to live more sustainably, boosted thinking outside the box, supported being creative and spreading awareness of environmental issues. We shared ideas about how to make the first or next step to live more sustainably – because every little step matters – through DIY workshops, presentations, discussions as well as documentaries. We created a safe and friendly environment to speak out and get to know each other through various ice breaker games and activities. During our intercultural dinners we tasted delicious dishes and shared various cultural habits, dances and music. We shifted our creativity and improvisation skills to the next level when we started our virtual environmental camps during the pandemic.
We collaborated with other NGO-s in Iceland to work together on the same goals. We experienced, for instance, how difficult it is to plant trees in windy Iceland, we collected tons of trash in the forest and on the coastlines and we wrapped many Christmas gifts for children in need.
In my free time I tried hitchhiking for the first time and crossed cold rivers during wonderful hikes. I went for a weekend trip to the Highlands with other nature lovers and camped outdoors. I saw the northern lights and played midnight volleyball during the summer. I saw plenty of waterfalls and rainbows, walked on craters and glaciers, went into a cave and sat inside a magic stone to make a wish and cycled during the night without brakes. I was soaked and happy at the same time or crying and laughing at the same time. But every experience was made especially special by the people I was with. For me the most important thing is that I met lovely and caring people and I hope I will hug them again very soon.
Find your workcamp
Icelandic Experience
SEEDS main supporters