SEEDS VC 108. Virtual Camp Environmentally Aware - Learn from home
15.12.2020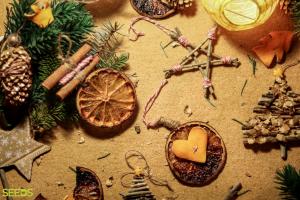 Our volunteers in the virtual camp SEEDS 108 shared their ideas and tips how to make their own Christmas decorations from stuff you usually have at home. Decorations can be made for example from egg boxes, magazines, oranges, cardboard, gingerbread, pine cones, twigs and many other natural or recycled materials.
The angel's body is made from an egg box, wings can be made from magazines or newspapers, the head, in this case, is made from hay but you can be creative and make it from anything you can find like chestnuts or acorns.
Using cardboard boxes to cut out the shape you want and drawing or painting something nice on them is a very easy way to make your own decorations and it will look great on your Christmas tree.
Dried orange slices are super simple to make and look fabulous. They are perfect for decorating bakes, Christmas cocktails, presents and your Christmas tree. You need to slice the oranges into 5-8 mm slices and then put them on kitchen paper so that the juice can be absorbed. Put them in the oven for 3 hours, 80°C (depending on the oven). You need to check them every hour and turn them over. Another great idea is to make an orange peel garland with citrus stars or other ornaments. Choose the shapes, cut them out with the scissors, let them dry and they are ready to be used as beautiful decorations.
You can also make your own tiny Christmas tree from twigs of different sizes. You only need some twine or string and glue. Be creative! You can use some pine cones to decorate the tree.
What else did we do in our camp?
We had workshops about slow travel, environmental impacts of cosmetics and personal care products, fast fashion, zero waste and photography. We were talking about Iceland in general, our own countries and also about environmental issues in the different countries, we shared and watched documentaries, danced, made our own deodorant, we cooked energy bites, smoothies and one delicious Nepali dish together.
Marianna Šadibolová, SEEDS camp coordinator
Find your workcamp
Icelandic Experience
SEEDS main supporters