SEEDS 084. The Highlands of Iceland - The Famous Kjölur Road (2/2)
22.11.2020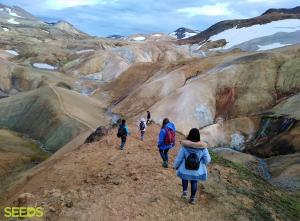 One of the last outdoors camp for this year took place in the Highlands, Kerlingarfjöll. This time the participants were only long-term volunteers.
Amongst other things we were working on making a new viewpoint next to a waterfall, bordering parking lots, painting huts, gathered broken pieces of a tiny mountain hut that storm had broken and carried around on a large area. Cleaned the way to a hotpot and ended the day having warm bath in a natural hot pool.
On our free time we were chasing sunsets, reading, playing cards and going for hikes - definitely a place with the most breath-taking views. We had fun experimenting with cooking, celebrating a birthday, meeting the staff and farmers, who had come to the mountains to collect the sheep with their horses and really cute dogs.
We also experienced our first snow storm in Iceland and for some volunteers it had been years since they last saw snow. This fun only lasted for two days.
This camp was a mixture of hard work and feeling like being on vacation because of the place itself. Everybody enjoyed the time there and have the idea to go and have visit again during winter.
Find your workcamp
Icelandic Experience
SEEDS main supporters