SEEDS VC 106. Environmentally Aware
16.11.2020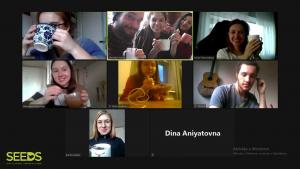 Due to the new wave of COVID-19 multiple countries are closing borders again, experiencing yet another lock-down.
For many it is impossible to travel and volunteer in Iceland, but with the virtual camps it is still manageable to meet new people from all over the world, to learn new skills and to increase awareness about environmental and sustainability issues.
In SEEDS Virtual Camp 106 our participants from Estonia, France, Italy, Kazakhstan, Poland, Portugal, Romania and Russia took the chance to share their love for the environment and their knowledge about global and local environmental topics, to learn more about it, to have fun and to get to know each other.
Each day participants and camp leaders met on Zoom for two sessions: we learned about Slow travel, Waste Management, Circular Economy and Bioeconomy, discussed about the environmental policies in our countries and what we are doing in our daily lives to be more sustainable and Eco-friendly.
We enjoyed making our own plant-based milk and 'meat' in a simple way, self-made face scrubs and hair masks, doing "trash hunting" in our neighborhoods, improving our photography skills, planting veggies in our indoor gardens, sharing original ideas and tips in order to create a positive environmental impact with the project Champions of the Earth.
During our meetings a lot of space was given to culture and tradition of our countries and it was a bit like travelling while staying in our homes: each participant created a presentation relating to their city or place of origin, sharing particularities and rethinking stereotypes. We also had the opportunity to eat our typical dishes together like Pizza, Pierogi, chak-chak, bauyrsak, Bacalhau a Brás, pastéis de bacalhau, blini, bolo de bolacha, talking and sharing recipes; our special ingredient for sustainability? All dishes in a vegan or vegetarian version.
On the last day of the virtual camp we all were sad to say goodbye, but luckily we consoled ourselves by enjoying a delicious vegan hot chocolate that we prepared all together.
Even in these hard times it is important to keep giving attention to the challenges that our Planet is facing: everyone can contribute with small changes in daily life to help the environment.
Thank you to all the participants!
Valeria BASCIU, SEEDS camp coordinator
Find your workcamp
Icelandic Experience
SEEDS main supporters