SEEDS Coastal cleanup with Blue Army
03.11.2020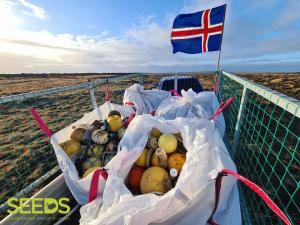 Earlier last week, on a nice sunny and beautiful day, SEEDS Iceland long-term volunteers had yet another coastal cleanup with the Blue Army. This time we again managed to collect about 700 kg of trash, and most of it was small pieces of broken fishing nets.
Since winter is coming, meaning the weather gets more unpredictable, this might be one of our last cleanups of this season.
Hopefully, during the next years, the coastline around Iceland will need less and less cleanups as we grow to be more thoughtful about our actions.
Thanks to everyone involved!
Find your workcamp
Icelandic Experience
SEEDS main supporters