SEEDS & VJF - Seminar in Sólheimar
27.06.2007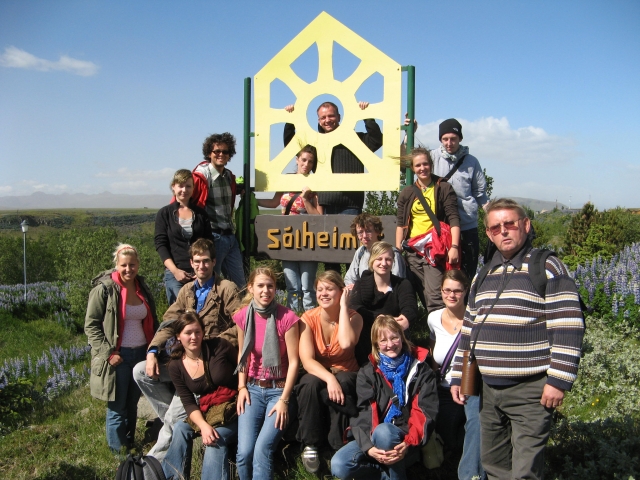 The seminar sponsored by the City of Berlin for the 14 participants in the "Freiwilliges Ökologisches Jahr" (FÖJ), continues and the German youngsters have now the opportunity to get better knowledge of the Eco-village, working in diverse workshops and areas.
They are right now working on 3 different areas: Landscaping in the Eco-village, different tasks on the green and landscape areas; renovation and maintenance works in some of the buildings; and in two workshops: The forestry department of Ölur or in the vegetable organic-growing greenhouses of Sunna. At Ölur, the forestry, the work will range from taking care and transplanting trees to actual reforestation work in the surrounding area. While in Sunna, the work focuses on growing organically vegetables as harvesting tasks.
Of course there are also some free time activities and opportunities to discover the area, in the picture you can see the group, guided by the local "Siggi", heading to Mount Hestfjall (317 m), which rises gradually higher from the south to the north in the Grimsnes County and is almost totally engulfed with water. Its highest point is called Hesteyru (The Horse's Ears).
For more information on:
The Freiwilliges Ökologisches Jahr, visit http://www.foej.de
Vereinigung Junger Freiwillige, go to http://www.vjf.de/
The Eco-Village of Sólheimar, visit http://www.solheimar.is
Find your workcamp
Icelandic Experience
SEEDS main supporters