SEEDS 010. Photography & Environmentally Aware in Reykjavik
16.03.2020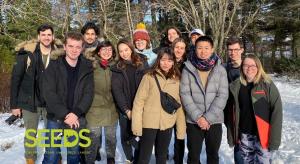 Our camp SEEDS 010. Photography & Environmentally Aware in Reykjavik has ended last week. We gathered from France, Korea, Japan, Canada, Portugal, Romania, Slovenia, Italy, Hungary and Mexico to learn more about environmental issues and photography in idyllic Icelandic conditions.
Our health stayed intact, and our hearts truly connected. We were listening to lectures from Green days at the University, went outside to hunt Aurora in the Botanical gardens, played lots of games and had a good time overall.
The food we cooked for each other was delicious, we were able to taste a lot of international flavours. Our camp was very successful and we are going to miss our participants.
Come back soon!
Tina MAVRIČ - SEEDS Camp coordinator
Find your workcamp
Icelandic Experience
SEEDS main supporters