SEEDS 095. Autumn Photography & Environment in Reykjavik
03.11.2019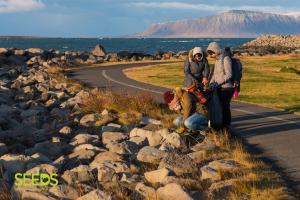 SEEDS 095. was special because we had four participants and therefore we could build an atmosphere of a family.
Apart from photography and environmental workshops, we took part in a clean-up that resulted in 6 kg of gathered trash, went to Whale Museum and took part in sewing shopping bags from used coffee bags in Tool Library. As always, we had international dinner, after which each of us shared some embarassing songs from our countries.
Participants got to see Golden circle and Power Plant. The weather conditions were perfect for seeing aurora from botanical garden. Since it was the week of Halloween, we had a carved pumpkin and watched Halloween- themed movies.
Marta JEMELJANOVA - SEEDS Camp coordinator
Find your workcamp
Icelandic Experience
SEEDS main supporters