SEEDS 054. Hitting the slopes - Blue Mountains & Skálafell
30.07.2019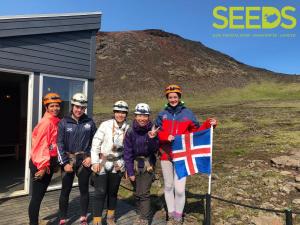 Together we can save the world
As a camp leader I must say I am more than happy when I meet volunteers who ''sacrifice'' their time and energy, who travelled almost one day in a plane to contribute two weeks in a project.
This time volunteers from Hong Kong, Mexico, Spain, France, Belgium and Germany were bringing their ideas and impact in the Blue Mountains.
What did they do there? Helping at the ski resort with painting the huts, maintainig the biking trails for the biking park and picking up trash in that area.
You can't imagine what plastic/metal in combination with strong wind can make..Was a deep lesson for all of us that we must reduce the consume of plastic. We let a more green place there and we are more aware about our effects on Earth.
Our camp was also a challenge to reduce the consumption of meat and bringing more awareness about the pollution made by this industry and values about loving animals. All the volunteers succeeded: two weeks with no meat (exception: fish).
In the end I want to express my gratitude for all the nice and kind connections with all these unknown people at the start of the camp. We transform into friends. They made plans to see each other after this experience and they also said that it will be their most memorable experience ever.
If you ever asked about the recipe to volunteering, they have one: 5 kg cooperation, 4 kg communication, 3 kg respect, 100 kg happiness and a lot of interest. Come and ''cook'' this cake.
Andrea Cadar, Camp Leader
SEEDS 054. Hitting the slopes - Blue Mountains & Skálafell, held between 30.06 and 14.07.
Find your workcamp
Icelandic Experience
SEEDS main supporters