SEEDS 052. Caves and canyons in the East of Iceland
30.07.2019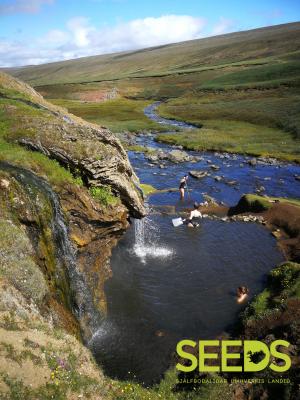 Imagine yourself on top of the hill trying to dig a stone out of the ground, several people around fighting to pull it out. Once relased from the ground rolling it into a stone wall. And repeat. Why would you ever do this?
We gathered in Reykjavik, all 8 of us from all over the world with a purpose to work together in a farm for the next 2 weeks. The drive from Reykjavík was long but filled with many stops and laughs and we had the time to get to know each other. We had a chance to visit the waterfall of Gods, Godafoss, Krafla crater with bluest water inside, Jon Snow's cave where special moments of Game of Thrones were captured, Mývatn lake and Hverir area with geothermal activity.
On arrival we were greeted by our host, quick instructions about the house and the plans for next day, quick hot dogs for dinner and to sleep. Next day we did not know what to expect, but it provided us a very thorough workout, aerobic, hour-long hike on top of the hill, heavylifting with huge rocks, lunch and a nap in shelter of those rocks and hike back down. Also a workout for your mind, to keep yourself motivated during repetitive work. Which seemed impossible, but ended up with participants creatively naming each stone we got out of the ground!
Next days passed flying by with all the work and discovering East of Iceland, that has been the most amazing part of Iceland for me so far! I never dreamed how much work can be done just with a handful ofpeople, we worked at the stone wall, fertilized trees, cut some trees so others could grow better, cut some branches so the trees would be healthier, dug a cave bigger that was filled with sand after rain, made hiking path secure for people with digging some steps and adding a handrail in an amazing canyon, cleaned a breathtaking hot pot, built a clothes changing stall there, changed old hiking poles to new ones so that people would notice them better, took old hay out from the barn and laid it out for the sheep on the field as food for winter and much more! Iceland was just constantly surprising us, even while working, constantly discovered us in complete amazement again saying "This is not a bad place to work at all!".
During our free time we had a chance to visit one of the most stunning places I have ever seen in my life, including a canyon, crisp blue water with surrounding basalt coloumns to the sky. Iceland just provides you with the best lunch views. We also went to see an old farm of a traditional turf house to see how Icelandic people were living in the olden days and learn more about their culture. Part of it was having the best pancakes with local juniper jam with hot chocolate and coffee!
Will remeber the dips in cold river, all the pancakes and waffels and cakes, the laughs and the people who made it special! And that is the most important part of these camps, the people. WHY were we happy to roll those rocks – our kindest host. He was always taking care of us and wanting best for us, he was considerate and patient, mild and humorous, and had all the interesting stories about every detail around. He was passionate to keep the traditions and the history of the places alive and he was doing it with his whole heart. He and his forever laughing and joking brother were our WHY!
Would go back to this family life we had any time! <3
Ethel Rosenfeldt, Camp Leader
SEEDS 052. Caves and canyons in the East of Iceland, held between 28.06 and 12.07.
Find your workcamp
Icelandic Experience
SEEDS main supporters