SEEDS 050. Reforestation in the North-East - Vopnafjörður
30.07.2019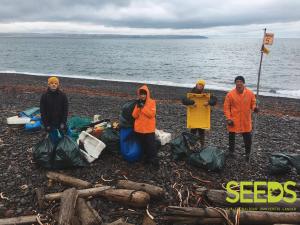 Reforestation in Vopnafjörður has finished with more than 13000 trees planted, couple of beaches cleaned, 4 hiking trails remarked.
But that wasn't all, there is so much more to it, than what meets the eye. Endless conversations, jokes, hikes, sand in face, sun in the sky, card games, coffee, more jokes and more coffee.

Takk fyrir Vopnafjörður, we are planing to be back after 10 years, to check up on our work and to have another lunch break, but this time in a middle of a bush, or a small forest, forest in making - call it what you want to. We will be back.
Lelde Gusta, Camp Leader
SEEDS 050. Reforestation in the North-East - Vopnafjörður, held between 15.06 and 29.06.
Photo by Emma Burger
Find your workcamp
Icelandic Experience
SEEDS main supporters