Environmentally Awareness in February
22.02.2019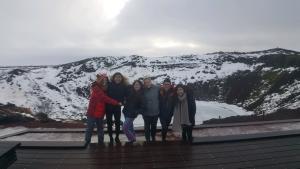 Currently, SEEDS is hosting an Environmentally Aware camp with participants from China, South Korea, and Taiwan.
In the last few days we have organised an urban Clean-Up around Reykjavik; we went on the Golden Circle excursion; we visited the Whales of Iceland museum; we went on a guided tour of the Hellisheiði Geothermal Power Plant, and of the SORPA Recycling Centre.
Through these activities, our participants are having the opportunity to get to know better the city, the country, as well as current local and environmental issues.
The camp leaders have also prepared various workshops and group discussions moments to address topics such as: sustainability, environmental conservation, climate change, and the future of our planet!
This way we could share different views and opinions, and learn with each other.
Our campers still have few days until the end of the camp, and we hope they enjoy it as much as we do!
Alexandra Ribeiro & Gaja Jenko, Environmental Messenger and camp leaders
Find your workcamp
Icelandic Experience
SEEDS main supporters