Winter in Iceland is anything but boring!
15.11.2018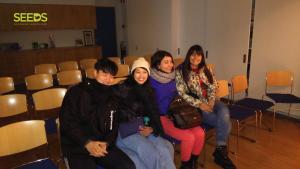 Winter in Iceland is anything but boring! Reykjavik has a positive and proactive attitude, where something is always happening. And guess what? We are all the time keeping an an eye on it so we don't miss a thing.
In our last Environmental Aware camp we had loads of fun and plenty of new information for our participants. Between group dynamics, talks, workshops, documentaries and educational games, we also had in situ activities so our participants could see the direct and practical example of the approached subjects. This included a visit to SORPA, the Reykjavik's recycling center, The Space, a co-working shared space, The Reykjavik Tool Library, a Forest clean-up, PERLAN Museum tour and a super cool environmental movie from Iceland at Bioparadis!
Last but not least, everyone could enjoy their free time to attend the endless free concerts, swimming pools and, of course, Iceland's beautiful nature.
Thank you to all the participants for the harmonious environment and the commitment to make a pro-environmental change.
Filipa Gomes, Environmental Messenger and workcamp leader
Find your workcamp
Icelandic Experience
SEEDS main supporters