SEEDS 111. Island of Viðey
13.09.2018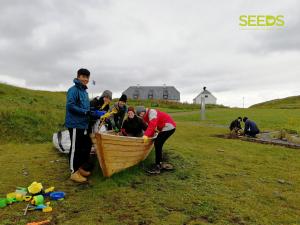 The island of Viðey is an oasis of peace and tranquillity with the well known Imagine peace sculpture surrounded by nature and wildlife, even though it is only a 5 minute ferry ride away from Iceland's lively capital Reykjavík.

On the island the nature is in charge, diverse bird life is tightly connected with the flora and the sea. On the beaches seals chill in the sun and in the night auroras take over the sky (with some luck). The island is a very quiet place, especially when the last ferry leaves. We felt like we had our own island – we were caretakers of nature and all the nice activities Viðey has to offer – hiking and cycling trails, barbecue spots and viewing platforms.

Our group of SEEDS volunteers consisted of two Japanese, one from Taiwan, one Polish, one German, one Italian, one from Spain, and the leader from Slovenia. We enjoyed discovering the differences in our cultures and cuisines. In our free time we were discovering the island, playing card and board games, we spent our weekend in Reykjavík, also visited the Golden circle and enjoyed the whale watching tour on a beautiful sunny day.
The work was sometimes hard and the weather moody, but our motivation never went down. We helped to transform the island with our work and made it neater and better organised. Friendships formed as we shared our lives for ten days. This was a truly amazing camp where work was intertwined with cultural bonding and beautiful nature.
Ana Kokalj
Find your workcamp
Icelandic Experience
SEEDS main supporters