SEEDS 094. Coast Cleaning and Environmentally Aware in Reykjavik
11.08.2018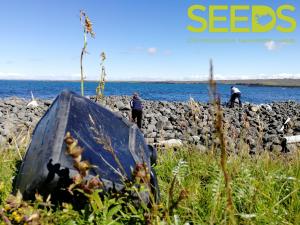 This year Seeds started with new series of coast cleaning & environmentally aware camps for everyone that want to discover Iceland in a different way. These camps include workshops about pollution, understanding where it comes from and more important, how to make little changes in our lives that will benefit environment in the future. We also opened different topics about the environment, connecting them with problems from our own countries. In this camp, the participants were from Germany, Italy, Russia and Slovakia and the two leaders from Hungary and Slovenia.
One day we were working with Blue army, an Icelandic non profit organization that has big plans to make the coastline clean. Their leader is a very interesting Icelander with big ideas and a lot of enthusiasm. We were working in Reykjanes peninsula and in one day we collected more than one ton of mostly plastic waste. The majority of plastic that we found came from fishing boats, we found also a lot of fishing nets and ropes along with the usual: plastic bottles and plastic containers. Some of the trash had identifiers on them so we could even determine where it came from – Russia, Ukraine, Norway, Denmark and even Canada.
In our free time we went on different excursions and the participants also had good time in the city, discovering local cuisine and enjoying different events and night life. We relaxed on the geothermal beach and even enjoyed some sunshine in Reykjavík.
Ana Kokalj
Find your workcamp
Icelandic Experience
SEEDS main supporters