SEEDS 085. Hiking Trails in the East Fjords
01.08.2018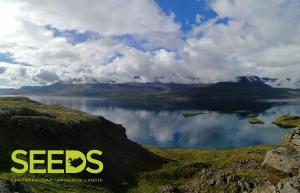 This SEEDS camp took place in Fjarðabyggð district in the East fjords of Iceland. SEEDS volunteers were doing construction, repair and marking of hiking trails and walking paths. SEEDS volunteers were working under the supervision and with a group from The Environment Agency of Iceland.

The main tasks were to repair hiking trails or walking paths in the protected area of Hólmanes. The path maintenance was done using manual labour, since machinery is not allowed in the protected area, and using natural materials available on the site.
This year, the volunteers came from Italy, Portugal, Spain, France, the Netherlands and Slovenia. In our free time we did some hiking around Neskaupstaður, we were discovering the amazing views from the coast, visited a nearby cave and a local museum. We were also enjoying the local swimming pools and hot pots and also visited a local horse show and competition.
The participants brought some of their local treats, so we got some taste of their home countries.
Ana Kokalj
Find your workcamp
Icelandic Experience
SEEDS main supporters