SEEDS 072. Selárdalur in the Westfjords - Samúel Jónsson
21.07.2018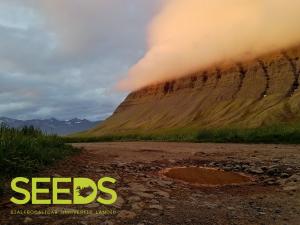 This camp takes place in Arnarfjörður in the Westfjords in a breathtaking but isolated part of Iceland. In this place you can experience untouched nature, away from most of the tourists. Landscape varies from deep fjords to tall mountains surrounding them, where diverse wildlife can be observed - from seals to dolphins and whales, birds of all kinds and also Arctic foxes. You can be charmed by the mossy slopes, grassy fields and the ever changing colour of the sea.
The work is guided by an experienced German artist living in Iceland for many years. He understands the voluntary service and also a social and inter cultural side of the experience. Work is diverse, sometimes hard and artistic at other times. The main task is to restore and preserve Samúel Jónsson naive art pieces. Samúel built a fairytale house and a church and also a sculpture garden. In the future the place will become a sanctuary for artists, a place where they can stay and create their art, so a lot of work is planned for the times ahead.
All the tools and safety equipment was provided by the host. In free time we hiked on the fjord mountains, we enjoyed sunsets on white sand beaches and visited Dynjandi waterfall and Látrabjarg cliffs, where we saw puffins. Along the way we visited a local museum and some other attractions. We also went to the sea monster museum where the supernatural wonders of Iceland come to life.

Our group consisted of two Spaniards - Catalonians, one French, a Hungarian-Canadian and a Slovenian. We got to know each other well and discovered a lot of interesting facts about our countries. We shared some of our traditional snacks and had fun with card games if the weather was keeping us in.

All in all, one of the best camps for people that love art and philosophy, inspiring nature and isolated areas waiting to be discovered.
Ana Kokalj
Find your workcamp
Icelandic Experience
SEEDS main supporters