SEEDS 069. Between Glaciers & Lava
11.07.2018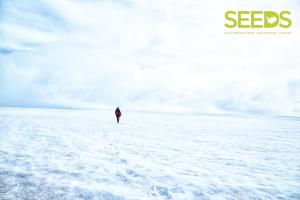 From the 30th of June til the 10th of July participants from all around Europe and Central America took part in the Between Glaciers and Lava camp. They stayed in the Kolsstaðir Farm, close to Langjökull Glacier.
We were working for the local artist, Páll Guðmundsson. Our main task was beautifying the area around the art museum and building the new art center. Camp participants also had the opportunity to learn how to build a stone pavement.
Páll told us all about his techniques of sculpting and painting in the stones. Every day during the breaks he was giving us little concerts, playing on the xylophones made out of rocks, which he designed and created himself.
On our days off, the host took us to the excursions, when we had the chance to see the Langjökull Glacier, Hraunfossar and Barnafoss. We also got the chance to join the SEEDS excursions to Snæfellsnes Peninsula and Golden Circle. After work we were enjoying ourselves in the local swimming pool, exploring the area by hiking and had fun when playing football in front of our house. Every night was different, many activities took place. From international karaoke night, to the Icelandic classes, our schedule was filled with plans and ideas.
On our last day we prepared a huge dinner with the host. The party was attended by everyone living in the area. As a thank you gift, Páll created little sculptures for everyone from the camp.
Participants and the host had a great time together and became good friends.
Maja Piechocińska
Find your workcamp
Icelandic Experience
SEEDS main supporters