SEEDS 015. Photography & Easter Aurora Hunting
12.04.2018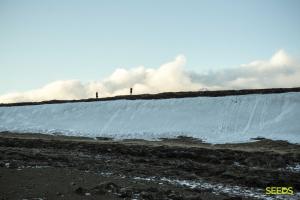 I share with you some of the highlights of a successful photo marathon
camp at SEEDS.
My favourite day was definitely the Snæfellsnes excursion. Packed with two full
vans we drove our way into the peninsula stretching our legs every half hour
because the view asks to be photographed.
The weather was chilly because the sky is clear blue with wonderful white clouds, a
perfect day for a tour through the diverse landshape. The Icelandic landscape
changes from volcanic hills to moss covered lava fields and rough cliffs
transferring into clattering waterfalls.
Certainly everyone agrees that the most treasured part of the day during the
camp is dinnertime. Cooking teams prepare their own cuisine depending on the
variation of nationalities we had in the house such as American, Chinese, Italian,
Spanish, Russian, German, Mexican and Korean.
Coming home after a long intense day the house smells good. The cooking team
has prepped tonight's dinner with a Japanese theme. Including three different
kinds of rice and typical Asian candy for dessert.
The morning after I start the day with a coffee in the sun on the bench in front of
the house. The early birds of the camp are coming back from a morning dip at
the hot pool with totally relaxed and satisfied faces. As the camp comes to its end
I realise that it is going to be hard to say goodbye to these wonderful people.
Find your workcamp
Icelandic Experience
SEEDS main supporters